Want to play? Get in touch!
If you would more information on our coed league or tournament, please contact us to find out more information.
Email
 jjelitegoalkeepinghi@gmail.com
Our Leagues Enjoy:
* Kailua-Kona Coed Tournament
Connect with us:
come to Big Island Soccer League
Aloha!
For The Game of LIFE! BISL will strive to provide players, teams and coaches on The Big Island of Hawaii with a safe and healthy competitive environment for all to be able to showcase, improve and flourish, while always focusing in the best interest of the beautiful game we all love. We reserve the right to remove or discipline any teams, players, coaches, managers or spectators not acting in the best interest of the game from the League.
BISL host the annual President's Day Weekend Kailua-Kona Coed Tournament February 14 th - 17 th, 2020. There will be two divisions: Over 35 (Men 35 and over, Women Open) and Over 45 (Men 45 and over, Women 18 and over).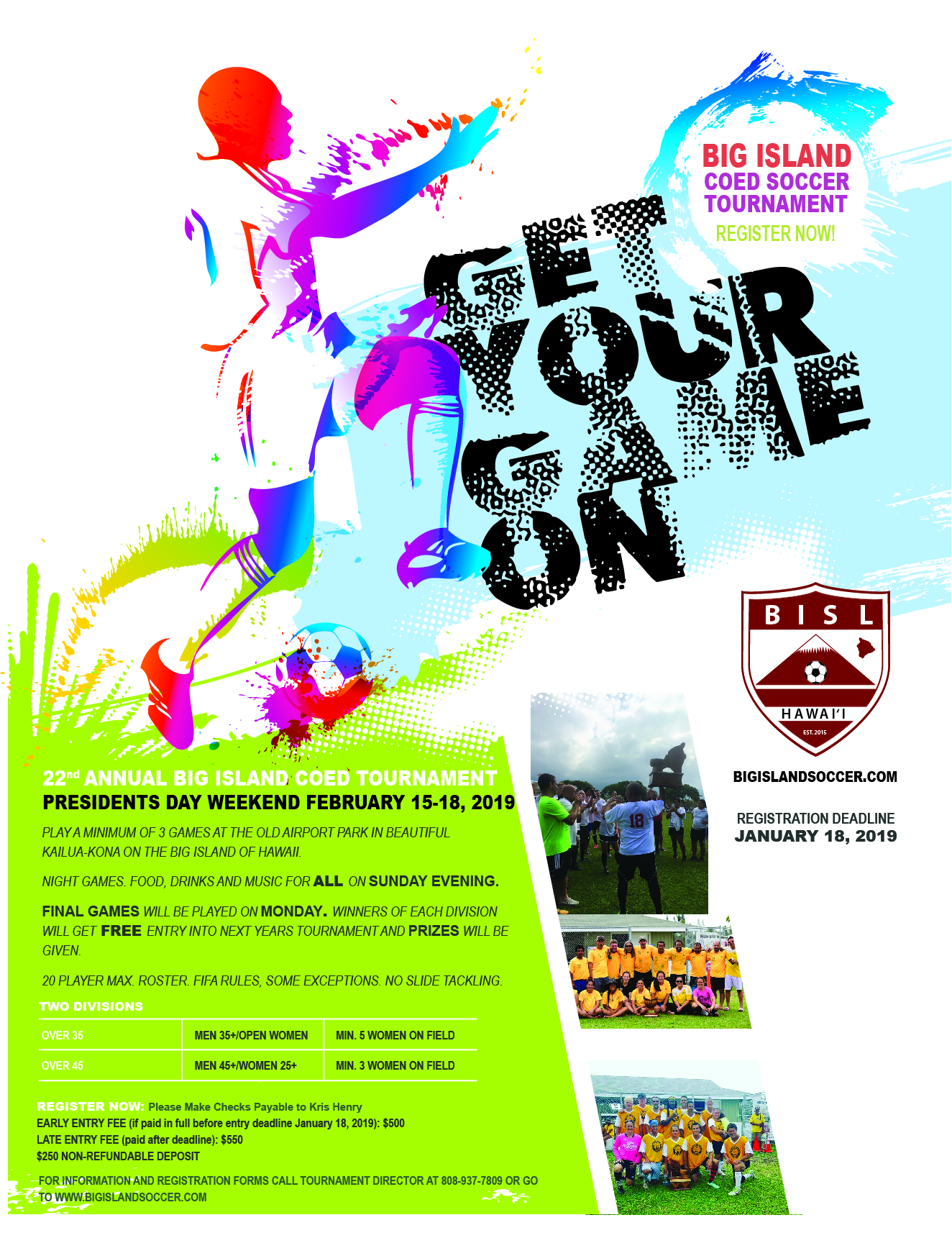 Information and Forms:
The games will adhere to FIFA rules, w/the only exceptions being
The 35+ group will have minimum of 5 women on field (includes GK)
The 45+ group will have minimum 3 women age 25+ on field (includes GK)
If a team is short 1 woman, they must play w/ 10 players.
No slide tackling
Unlimited substitutions when ball is out of play at throw-ins and free kicks, on your own ball possession, and when other team is subbing.
3 points awarded for a win, 1 point for a tie
NEW  RULE: If your team forfeits on Monday ALL players will be banned from playing in 2020 Coed Tournament. Upon conclusion of Sunday's games, ranking of teams will be determined for Championship and 3rd place games on Monday. In the case of a tie in points accrued, the rankings are determined by the greatest difference in goals, then to greatest number of goals, and finally head-to-head.


Feel free to contact Kris Henry at anytime via cell if you have any questions.We look forward to seeing you all and hopefully some new faces to the
2019 BISL Coed Tournament Registration Form, Roster Form and Waiver:



2017 BISL Coed Tournament Over 35 Champions -
Kona Crush
2017 BISL Coed Tournament Over 45 Champion-
Kona FC